You can see where and when our products are used.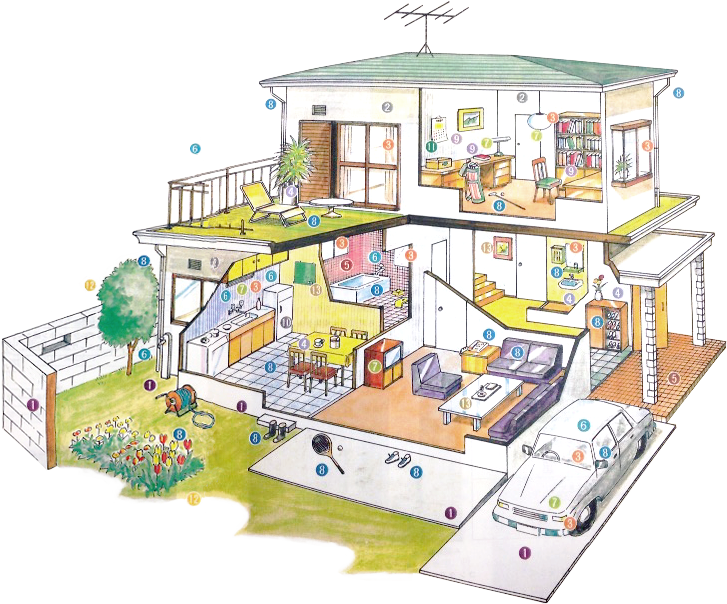 House
Loving room
Kitchen
Bath room
Front door
garden
car
others
Ceramics
Cement concrete
Base concrete
 
 
 
Concrete floor
Concrete floor,
water spigot,
concrete-block wall
garage
 
building materials
/stuff 
ALC wall stuff,
gypsum board,
ceiling board
 
 
 
 
 
 
 
Glass 
Window glass
illuminator
bottles
Glass,
mirror
 
 
Window glass,
headlight
 
pottery and porcelain
Tile
 
Coffee cups, dishes
dinnerware
Bathtub, toilet, washstand, floor tile, wall
vase,floor tile
flowerpot
 
 
Steel products
 
 
Stainless sink, pipe, faucet, refrigerator
 
 
 
Faucet,Steel fence
Car body
Home appliances
 
fluorescent light, cathode‐ray tube
fluorescent light
fluorescent light
fluorescent light
 
Ca-Pb battery
 
Fillers
Plastics, synthetic rubber,
leather
rainwater pipe
Telephone, lampshade
vinyl tile
Bathtub, Tooth brush
 
water hose,
Rain boot
 
golf bag, ball, sneakers, tennis racket
Papers 
 
Calendar, acid-free paper(Indian paper),cigarette‐paper(rice paper)
 
 
 
 
 
 
Foods
Drugs
 
Sugar, medicine(digestive medicine, Calcium compounds and preparations, tablets)
Tofu, konjac, bread, sugar, ice cream, chocolate
 
 
 
 
 
Fertilizer, agrichemicals
 
 
 
 
 
calcium fertilizers,
disinfectants
 
 
Others
 
frame putty, Marble ashtray
chalks
 
 
 
 
 
source:Japan Lime Association "Sekkei Seki no Hanashi"p.29(1987)
Purposes
White marble for reflex facilitation to solar power generation (a brand name:REFLEXIO®)
Compare to other limestone with our crystalline limestone, our products shows the highest brightness value in all around the World.We made up a new product for reflex facilitation to solar power generation with our highest brightness crystalline limestone.
Tombstone paving stone (a brand name:HOUSEKI)
Like REFLEXIO®, it has high purity and high whiteness, and the brightness increases with sunlight and shines white, making it even more beautiful when used.

Can also be used as a garden crushed stone.