President greeting
Our company have owned huge deposit of lime stone and contributed to the growth of all industries. From 1955, we have been continuing manufacture and sale of high quality lime stone, having evolution with the time had passed by.
Kanehira Works(Hiroshima prefecture) reserves about 8 to 10 billion tons of lime stone (marble) and produces heavy calcium carbonate powder and grain.
Meanwhile, Sanpo Works (Okayama prefecture) reserves 5 billion tons of lime stone and produces quick lime and slaked lime (calcium hydroxide).
We are looking forward to improve our technology and service for our customers. So it is my grate pleasure to support and assist our company.
Good regards.
April, 2018
C A L F I N E C O., L T D.
President Yoshinori Azuma
Mission Vision Value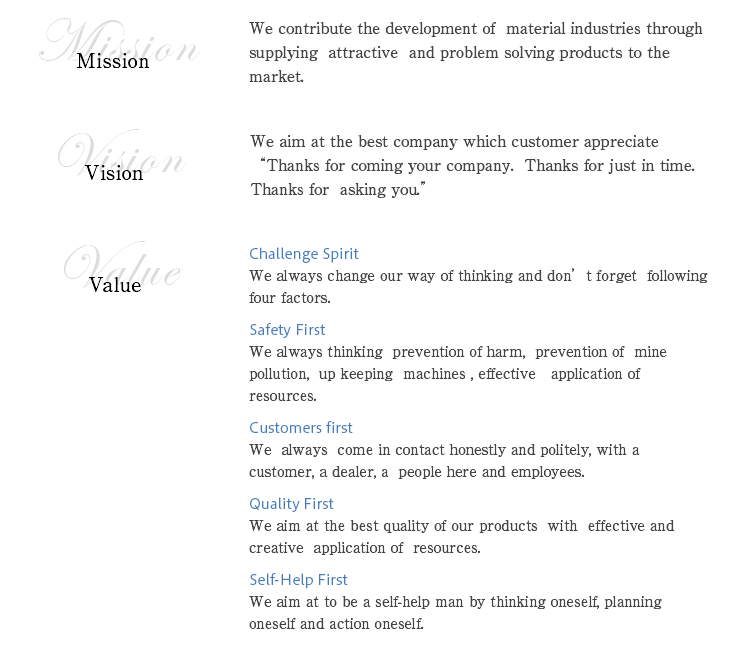 2008/10/1 CALFINE CO.,LTD
Certification ISO9001
We are certificated the international standard of a guarantee of quality ISO9001.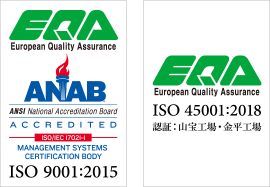 Much finer
Our market needs much finer materials.
We are going to introduce new technology and new production facilities for improve our products quality.
Huge deposit of lime stone
Our company's selling point is huge deposit of lime stone. Estimated reserves is about 10 billion tons more. Compare to our annual output, that is 350 to 400 thousand tons, you can imagine these number is so huge. Besides its quality is a world wide top grade. Kanahira mine output high degree white and very low level impurities lime stone (marble). So customers which need much finer materials such as paper manufacturing, paint producers and compounders are using our products preferentially. We also want say about our high level mining and production technology. These technologies enable to output our lime stone so rapidly and product top grade CaCO3. To maintain constant supplying our products to customers, we have to continue exploring new deposit. For open up a new vista of the future we make a daring investment.
We deliver the best quality to your life.
In your room you can find out our products. The reverse of the carpet, tiles, wallpapers, artificial marble, tooth paste, rubber products, synthetic resin products, artistic handicraft articles, thin films, foods etc., CaCO3 is changed its shape. For these products need much finer powder properties. We are going to expand our playing field aggressively from the top runner's point of view.
Strive for accuracy in our work
Our quality control system create high performance products. In order to meet the customer's spec we always have to check all processes. And we set our own strict quality standards and a person in charge on every process.
Each person in charge must keep products quality and schedule.